Copyright © 2016 www.lomaxreport.com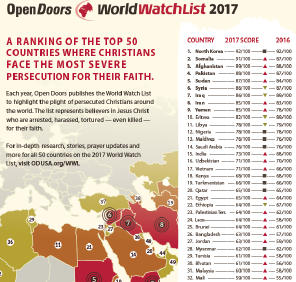 WORLD WATCH LIST REVEALS TOP NATIONS PERSECUTING CHRISTIANS.
March 10, 2017 – This past week Open Doors USA, a Christian organization serving persecuted Christians world-wide, released their annual World Watch List, detailing where persecution is occurring the most. Ranking #1 on the list is North Korea, a Socialist country known to be overtly hostile to those of the Christian faith. Also topping the list are islamic countries, which over the past fifteen years have begun a physical purge on Christians. Syria, a nation that once protected Christian settlements, is in the top ten of the list. The Syrian regime lost control of much of the nation when the Obama administration began efforts to topple the Assad regime in order to install a regime which was more open to islam. However, those efforts have not succeeded and the country has been destabilized, which has left room for muslim terror groups to seize control of much of the country.